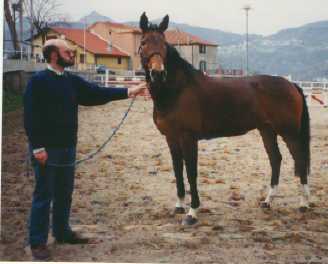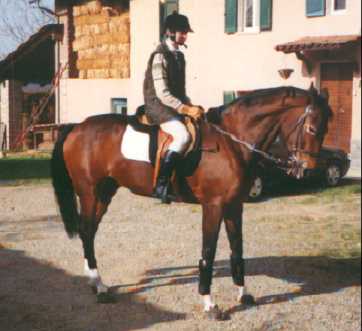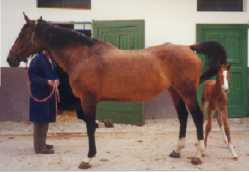 Fumosa & Venessa, Ozieri (Sardinia), May 1994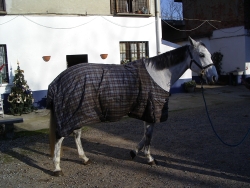 Gazelle, Castellazzo di Bollate (near Milan), December 2008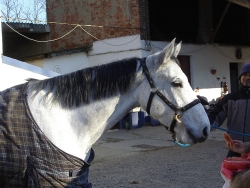 Gazelle, Castellazzo di Bollate (near Milan), December 2008
FUMOSA - Anglo-Arabian-Sardinian bay mare, b. 1981, sire Spartano, dam Soriana
Fumosa (Italian for "smoky") means a lot to me: she's my Mom's last gift to me, before she passed away in 1992. A gift full of life and graceful elegance, just like I remember my lovely Mother…
I have so many radiant memories of my rides with Fumosa, in the pretty Piedmontese countryside, with its vineyards, sunflowers, orderly poplar-groves and corn-fields!
But the cold, damp Piedmontese winters made her respiratory problems worse. So I had to come to a very tough, painful decision for Fumosa's sake: send her back to her native land, the beautiful island of Sardinia. I knew I'd miss her terribly, but I also knew she'd feel much better in the mild Sardinian winters. I was right on both counts…
Nowadays Fumosa is a full-time mom and granny! She had her first filly - Venessa - in 1994; she's a chestnut beauty, like her father, Eschilo II. In 1997, Fumosa had a bay colt, Beethoven, sired by Flamenco III. The following year came another chestnut filly, Céline, sired by Phosph'or. In 2002, she had yet another filly, Gazelle, sired by Piraden, a grey French Anglo-Arabian stallion.
In 1999 Venessa had her first "child", a foal called Dream, sired by the French stallion Arpège des Bois.
I hope and pray that Fumosa may spend many more happy years in her gorgeous corner of the world, in the lively company of her offspring!:-)

On 16 June 2008, at the ripe old age of 27, my beloved Fumosa joined Lea at the Rainbow Bridge... Run free and forever young, sweetheart!